3 Ways Law Firms Are Reducing Litigation Costs With KLW
Technological advancements have helped to revolutionize the way that we conduct business in countless ways over the past decade. In particular, the legal industry has seen a significant improvement in technology on many fronts in recent years.
A growing number of legal professionals are now embracing the latest innovative solutions to become more efficient while significantly reducing the costs associated with litigation.
The following article explains how law firms, corporations and insurance companies have been able to significantly reduce costs while improving litigation processes with the help of KLW's LiveLitigation Services.
1.) Remote Litigation Events In Realtime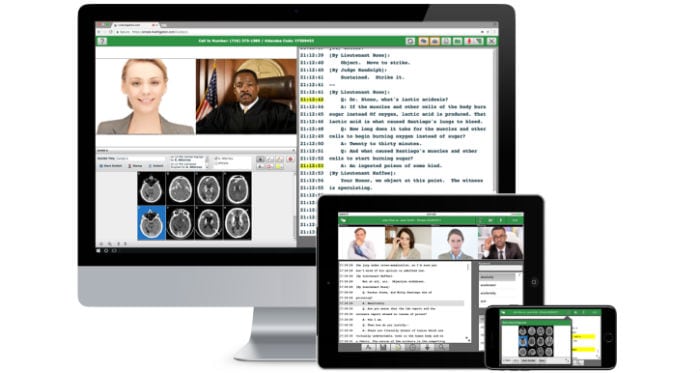 The travel that is often required to attend litigation events can be very time-consuming and expensive for law firms. As a result, a growing number of legal practices and insurance companies are turning to KLW's LiveLitigation Services to take advantage of the convenience, as well as the cost-savings, associated with streaming real-time litigation events remotely.
By remotely streaming litigation events attorneys and claims representatives are now reclaiming countless hours of time that was previously spent traveling to depositions, and other litigation events, while law firms are seeing significant bottom line growth due to reduced travel expenses.
With LiveLitigation Services from KLW, attorneys and corporate counsel are now able to host and attend all of the important litigation events that they need to in real-time from anywhere in the world. Legal professionals can use a laptop or mobile device to access all of their important legal proceedings including depositions, trials, hearings, witness prep and more.
Attorneys and insurance personnel can follow along with a court reporter's transcript in real-time during a live litigation event. Additionally, the Interactive Realtime Streaming services allows remote attendees to search for keywords, highlight text and make notes, all of which can be used for reference later.
2.) High Quality Video Conferencing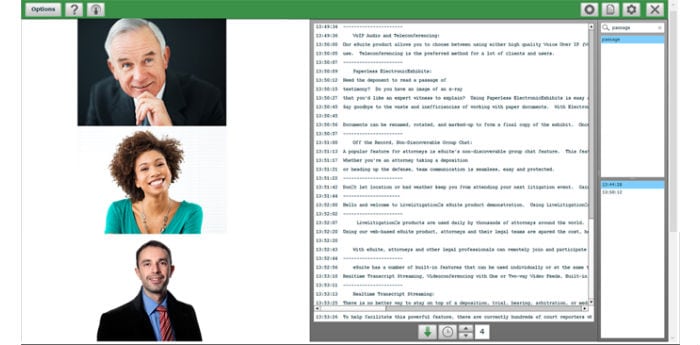 The use of video conferencing technology has seen massive growth in the legal and insurance industry lately as more and more firms begin to understand the benefits of this technology.
However, many of the video conferencing solutions available to legal and insurance professionals can be unnecessarily complex and often do not integrate with other technology solutions being used to conduct business.
As a result, more and more law firms, corporations and insurance companies are turning to KLW's LiveLitigation which has high quality web-based video conferencing built into the platform and easily integrates with other technology solutions.
The easy-to-use video conferencing platform allows attorneys and insurance claims representatives to conduct one-way or two-way video conferences using any standard web camera. This means that they can conduct face-to-face questioning during a deposition, analyze a witness without being seen during the discovery process, or simply connect with colleagues to collaborate.
You can learn more about KLW's Remote Depositions Services here: https://klwreporters.com/remote-deposition-services/.
3.) Paperless Electronic Exhibits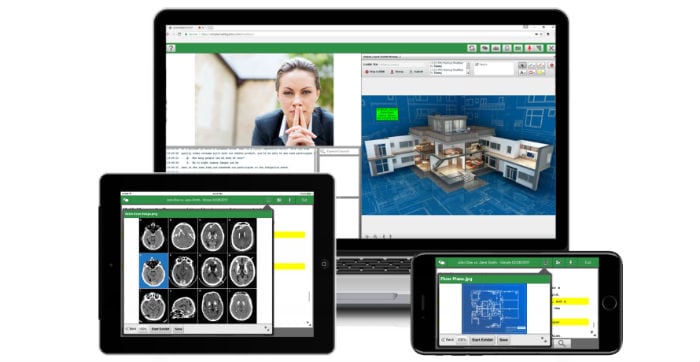 As an all-in-one litigation event solution, KLW's LiveLitigation platform also includes a user-friendly feature that allows for collaboration on electronic exhibits through a secure cloud-based connection.
Litigation professionals can use the electronic exhibits feature to digitally introduce, manage, and collaborate on exhibit files. Exhibits can be time-stamped, marked-up in real-time, and simultaneously shared in multiple locations.
In addition to eliminating the disorganization that comes with paper files, using electronic exhibits also allows the storing of important documents online in an easily accessible, organized manner. In fact, many clients of KLW use this particular feature to review witness videos, collaborate on various types of exhibits, and create a paperless exhibit resource.
Contact Kaplan Leaman & Wolfe Court Reporters
Want to learn more about the technology solutions and litigation support services offered by Kaplan Leaman & Wolfe Court Reporters?
Visit our homepage at klwreporters.com to discover all of our products and services. You can also call us at 1-877-KLW-DEPO (877-559-3376) for a free consultation to find out how we can help your law firm, corporation or insurance company handle all of your litigation needs.
Related Articles & Resources:
https://klwreporters.com/wp-content/uploads/2018/09/Electronic-Exhibits-On-Mobile-Devices.jpg
362
700
Gregg Wolfe
https://klwreporters.com/wp-content/uploads/KLW-Court-Reporters-Logo-Retina.png
Gregg Wolfe
2018-09-13 13:54:47
2020-05-12 09:14:24
3 Ways Law Firms Are Reducing Litigation Costs With KLW