The "All-In-One" Virtual Litigation Solution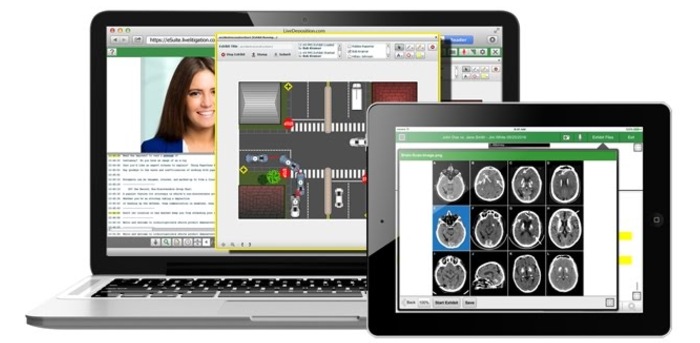 The landscape of depositions and litigation procedures is changing before our eyes, as a growing number of legal professionals are embracing innovative technology to conduct virtual litigation events.
In addition to offering superior court reporting services, Kaplan Leaman & Wolfe provides an "All-In-One" Virtual Litigation Solution for our clients in the legal industry.
Whether you need to depose an out-of-state witness, participate in key litigation events across the country, or collaborate with team members in another time zone, we can help you get it done.
For a free demonstration please watch our Virtual Litigation Solution videos here.
Remote Video Depositions & Litigation Events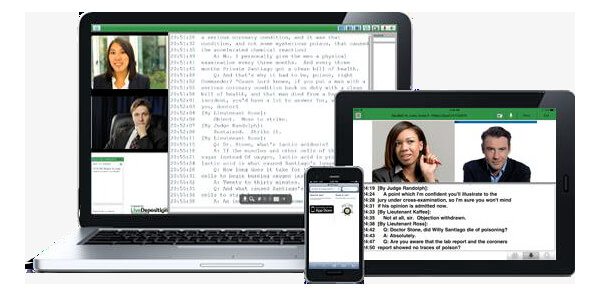 With our remote litigation solutions attorneys are now able to host and attend all of the important litigation events that they need to in realtime from anywhere in the world. A laptop or mobile device is all you need to access all of your important legal proceedings including depositions, trials, hearings, witness prep and more.
Additionally, our easy-to-use video conferencing platform allows for one-way or two-way video conferences using any standard web camera. This means that you can conduct face-to-face questioning during remote depositions, analyze a witness without being seen during the discovery process, or simply connect with colleagues to collaborate.
By remotely streaming litigation events, legal professionals are now reclaiming countless hours of time spent traveling to depositions and other litigation procedures, while law firms are achieving significant bottom line growth due to reduced travel expenses.
Interactive Realtime Streaming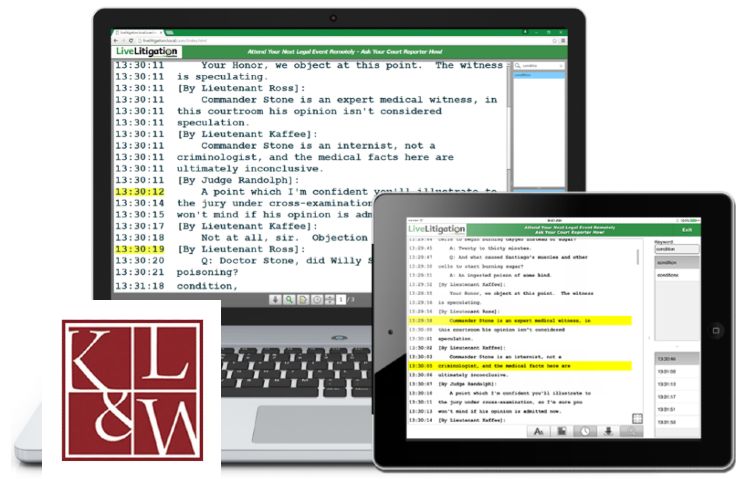 Interactive Realtime Streaming allows participants of remote litigation events to follow along with a court reporter's transcript in realtime. There is a streaming text feature that occurs throughout the video feed where you are able to create secure, non-discoverable private chats.
Attendees can search for keywords, highlight text and make notes, all of which can be exported into a litigation viewing software of your choice for reference later.
Paperless Electronic Exhibits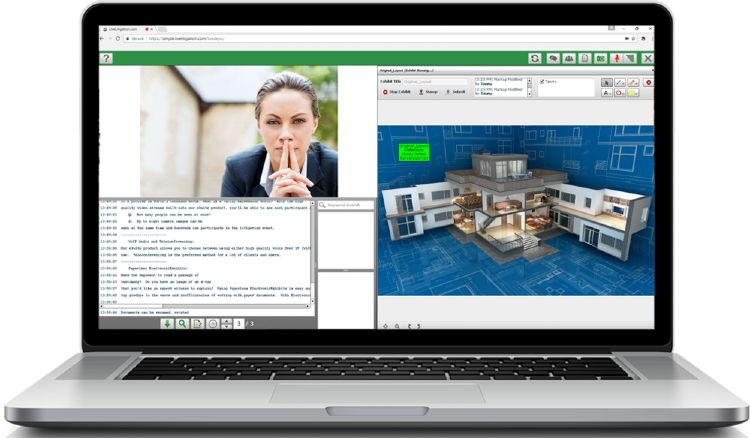 As a complete remote litigation solution, our platform includes a user-friendly feature that allows for collaboration on electronic exhibits through a secure cloud-based connection.
Participants can digitally introduce, manage, and collaborate on exhibit files which can be time-stamped, marked-up in realtime, and simultaneously shared in multiple locations.
In addition to eliminating the disorganization that comes with paper files, using electronic exhibits also allows the storing of important documents online in an easily accessible, organized manner. Many of our clients use this particular feature to review witness videos, collaborate on various types of exhibits, and create a paperless exhibit resource.
Ready To Join The Remote Revolution?
Legal practices across the nation are turning to Virtual Litigation Solutions, as well as other court reporting technology, to take advantage of the convenience and cost-savings associated with streaming realtime litigation events remotely.
Kaplan Leaman & Wolfe is available to provide a free online demonstration at your convenience. Please contact us for more information by calling 1-877-559-3376.
Related Resources:
https://klwreporters.com/wp-content/uploads/Virtual-Litigation-Solution.jpg
343
700
Gregg Wolfe
https://klwreporters.com/wp-content/uploads/KLW-Court-Reporters-Logo-Retina.png
Gregg Wolfe
2020-04-23 17:12:03
2020-05-12 08:46:45
The "All-In-One" Virtual Litigation Solution