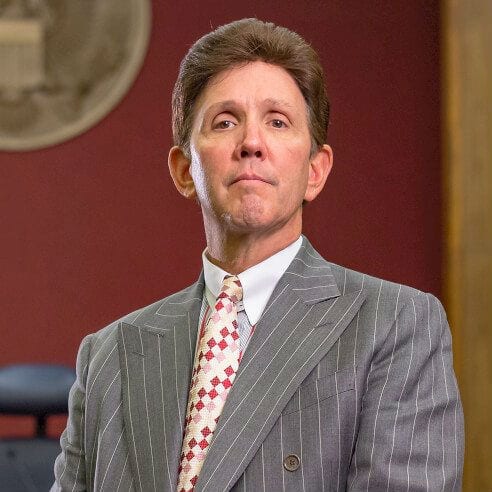 Kaplan Leaman & Wolfe's CEO, Gregg Wolfe, has announced his retirement from his 40-year career as a highly-respected court reporter with the United States District Court for the Eastern District of Pennsylvania.
For five years Gregg worked as a per diem court reporter for the Federal Judges, followed by 35 years working as an Official Court Reporter within the District Court.
"I want to express my deep appreciation for the opportunity to work with so many incredible colleagues during my time at the US District Court for the Eastern District of Pennsylvania," said Mr. Wolfe. "My work here has also allowed me to engage with, and learn from, so many great attorneys, judges and staff over the past 40 years."
Going forward, Mr. Wolfe plans to focus full time on his role as Owner and CEO at Kaplan Leaman & Wolfe Court Reporters, where he is responsible for the continued growth and success of the company.
Celebrating A Long & Successful Career With The US District Court

Mr. Wolfe's impressive career with the US District Court for the Eastern District of Pennsylvania began in 1978, when he was hired as a freelance court reporter. During this time Mr. Wolfe was responsible for assisting the federal official court reporters with a variety of assignments and depositions.
In 1983, Mr. Wolfe was promoted as an Official Court Reporter to the Honorable Louis H. Pollak, where he went on to report hundreds of trials and hearings over the next decade.
Mr. Wolfe was subsequently hired by the Honorable J. Curtis Joyner in 1992 and had been his court reporter, as well as other judges, until his retirement. He has reported numerous high-profile court cases, all types of civil and criminal trials, as well as Multi-District Litigation Cases.
Turning To The Future
Mr. Wolfe will now focus 100% on operating his national court reporting agency, Kaplan Leaman & Wolfe Court Reporters, where he took possession of an existing company in 1982.
"I am very excited for the opportunity to focus 100% on KLW going forward," said Mr. Wolfe. "We have an incredible team of very talented people at KLW and it is a great honor to be able to work with them every day to provide our clients with the exceptional service that they have come to expect from us."
About Kaplan Leaman & Wolfe Court Reporters
Kaplan Leaman & Wolfe Court Reporting & Litigation Support works with law firms, insurance companies and corporations across the United States to provide court reporting and turn-key litigation support of the highest caliber.
"We listen carefully to our clients and then partner with them to assess their needs and to assemble customized solutions."

Our solution begins with the most qualified court reporters in the business who are meticulously vetted to answer to a higher standard. They are professional, produce flawless transcripts, meet deadlines and they have an intricate understanding of the legal system.

From there, we harness the full spectrum of available technology to enhance and customize each client's experience. We use our commitment to service, online systems that integrate directly with law firms' platforms, as well as competitive, transparent pricing so that – from Discovery to Verdict – we are able not just to meet, but to exceed our clients' high expectations.

KLW is one of the only court reporting agencies in the country where the owner is an experienced Federal Court Reporter.
https://klwreporters.com/wp-content/uploads/2019/01/Gregg-Wolfe-Profile.jpg
250
250
Gregg Wolfe
https://klwreporters.com/wp-content/uploads/KLW-Court-Reporters-Logo-Retina.png
Gregg Wolfe
2019-01-28 14:43:48
2019-01-28 15:45:18
Gregg Wolfe Retires From US District Court For The Eastern District Of Pennsylvania To Focus On Role As CEO of Kaplan Leaman & Wolfe Court Reporting & Litigation Support