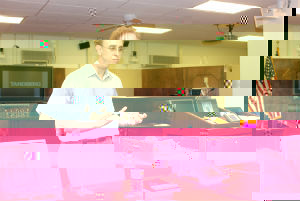 Computer-generated presentations are becoming the ever-growing norm for complex cases. Transcripts in ASCII or e-Transcript format are not as powerful a tool as Video or digitized exhibits. These advances improve both the efficiency of trials and credibility of testimony.
How To Present
Having one presentation with all sources of media linked together improves efficiency and keeps the courtroom engaged. As recognized by the Federal District Court in New Jersey, "incorporating a video deposition into such software to impeach the witness at trial will ordinarily be less time consuming and more effective than fumbling back and forth referring the witness to lines and pages of transcript." Fanelli v. Centenary College, 211 F.R.D. 268, 271 (D.N.J. 2002). All other areas of a deposition will benefit from this preparation. Digitized exhibits are a powerful tool both in and out of the courtroom. An exhibit is digitized by scanning a transcript and converting it into a digital picture. There are many uses of video in the courtroom, from recording witness testimony to showing the conditions of remote locations. For example, by digitizing the deposition and syncing the video to the deposition transcript, a lawyer can pull up specific segments of a video deposition at a moment's notice and allow the judge and jury to hear and see the deponent while simultaneously reading the transcript.
What We Do
At Kaplan, Leaman and Wolfe we recognize that each deposition is best fitted with its own unique selection of our services. We work hard to provide all the latest technology and maintain high standards for our team and equipment. With more than 30 years of experience we look forward to providing you with court reporting and litigation support services.
https://klwreporters.com/wp-content/uploads/2016/11/klw-blog-banner1000x500.jpg
500
1000
Gregg Wolfe
https://klwreporters.com/wp-content/uploads/KLW-Court-Reporters-Logo-Retina.png
Gregg Wolfe
2013-09-25 10:30:50
2013-09-24 15:48:46
Digital Exhibits